Mom | Spouse | Artistic Director | Studio Owner | Instructor
"
Dancing faces you towards Heaven, whichever direction you turn.
— Terri Guillemets
TAMMY WOOTEN-SINGH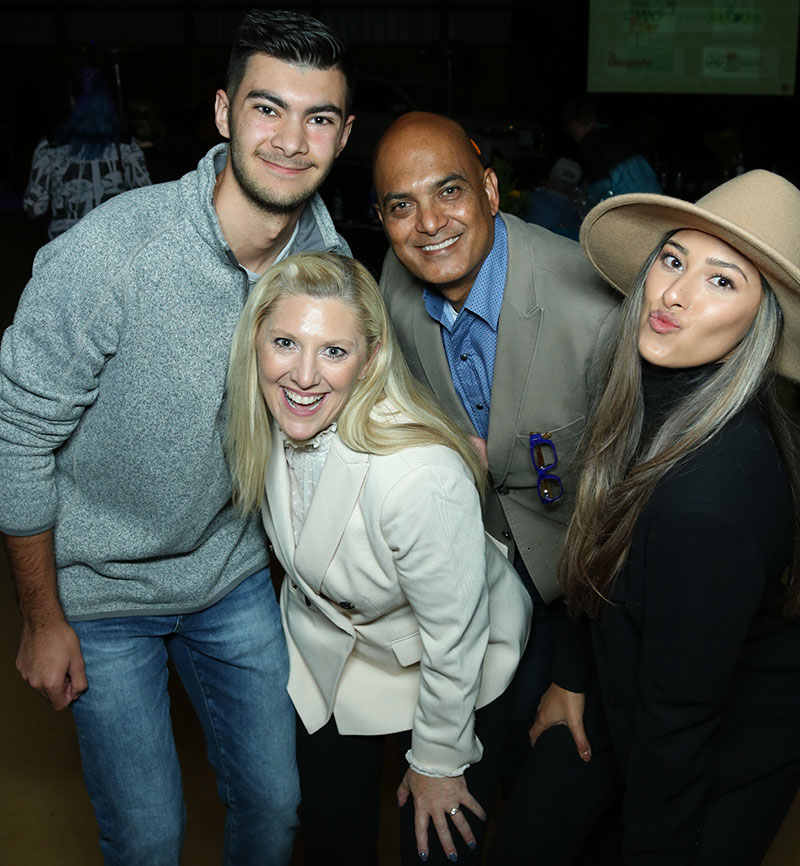 Miss Tammy is the founder of the Academy, EST in 1991. She has spearheaded its growth as one of the area's premier dance education facilities for over three decades. Tammy's been involved in dance since the age of 6. She has performed in 30 pageants, 12 of which were with the Miss Iowa organization. Miss Tammy's dance career has taken her to the far reaches of the globe performing as far away as Denmark and Russia. Her expertise in choreography led her to lead the dance team for the semi-professional Thunder basketball team, this later led to her being selected as a Chicago Bulls "Luvabull" dancer. Her education includes a degree in business and teacher certification with Dance Educators of America. Tammy has also been an active member of the community, her involvement spans school fundraising, talent shows, festivals, chairing both Wild about the Child and the Genesis Health Systems charity gala. Miss Tammy and her husband have continued to Chair the Wild About the Child fundraiser since 2009, all of the proceeds go to an at risk camp for kids. Miss Tammy, her husband Ajay, daughter Sydney, and son Aidan enjoy traveling, family time, cooking at home and entertaining with family and friends. When she has a free moment, she likes to read, play with her dog and workout.
Miss Tammy's mission to provide top quality dance education to students led her to assemble a team of professionals dedicated to teaching dance, many of whom possess degrees and advanced degrees in education. The studio provides an office staff to serve the needs of parents freeing up the instructing faculty to spend more time with students.
---
Daughter | Little Sister | Academy Dancer | Dance Instructor
"
"Let us read, and let us dance; these two amusements will never do any harm to the world."
— Voltaire
JENNA WEGER-COOK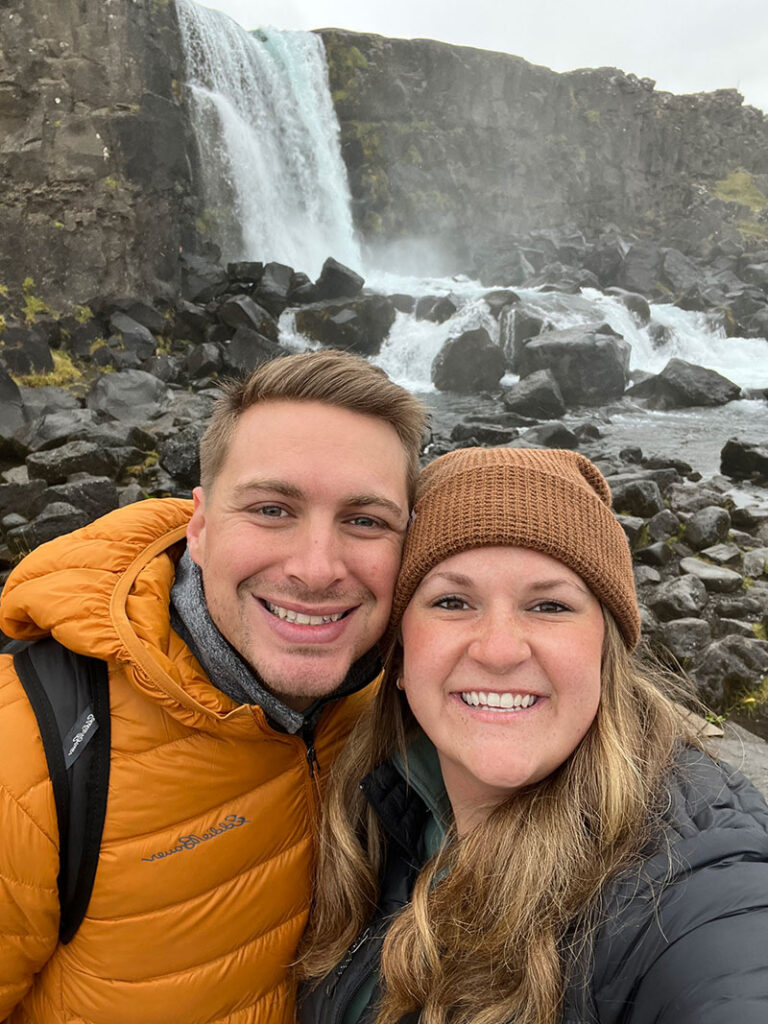 Born and raised in Moline, Illinois, Miss Jenna is a true Academy alumni. She started as a student at the early age of five, was an instructor for over ten years and is now a substitute instructor as often as she can.
Miss Jenna's love of dance has consisted of over a decade in instruction at the Academy, participating in the Moline High School Dance team for four years, and dancing with the St. Ambrose Dance team for two years. Jenna's favorite class to teach is Creative Movement but ultimately loves working with all classes.
Jenna works at a local Credit Union as a Digital Marketing Manager. When she isn't working or teaching dance Jenna loves traveling with her husband, binge watching a TV series, and doing projects around her house.
---
Mom | Spouse | Sister | Academy Dancer | Dance Instructor
"
"Do it big, do it right, and do it with style."
— Fred Astaire
ELIZABETH TIMM-HOLLENBACK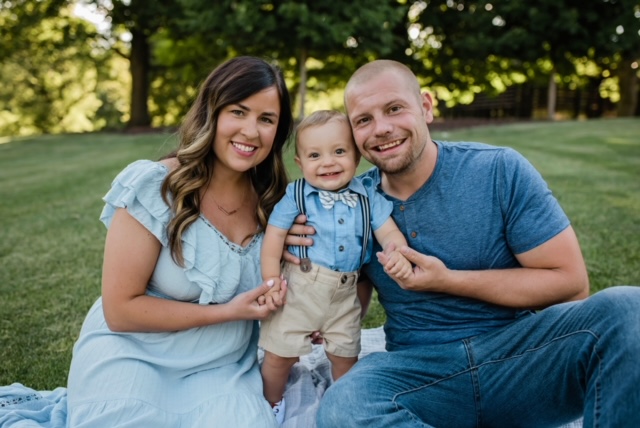 Miss Elizabeth is a native of the Quad Cities where she trained under Miss Tammy for 18 years. During her time at the Academy, she danced on the competition team, attended conventions, and assisted alongside Miss Tammy. She has taught dance for 13 years at the Academy. She is trained in ballet, jazz, tap, and hip-hop and has choreographed routines for a variety of age groups.
Miss Elizabeth has her Bachelor's degree from the University of Iowa and an MBA from Upper Iowa University. She is currently working as an accountant for an insurance company. In her free time, she enjoys reading, binge-watching TV shows, and spending time with her husband and 2-year-old son.
---
Mom | Grandma | Office Staff
"
"Let your life lightly dance on the edges of Time like dew on the tip of a leaf."
— Rabindranath Tagore
DEB STACY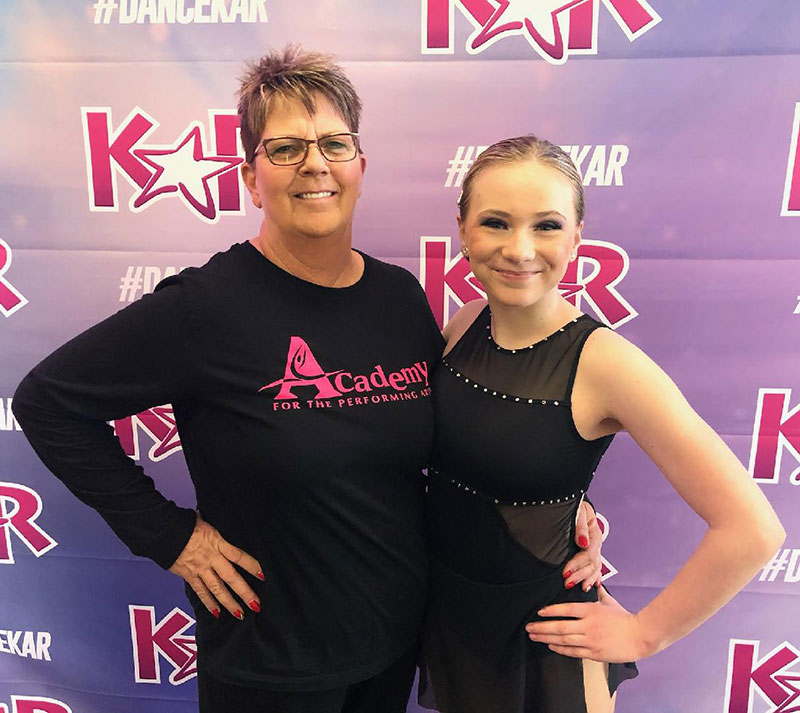 Born in Sterling, IL, Miss Deb has spent most of her life here in the Quad Cities. Miss Deb is the Academy Office Manager, and works closely with the Academy Parents, Students, and Staff. After 10 years at the Academy, she still looks forward to seeing all the smiling faces, and the exchange of "hellos". Miss Deb has 3 adult children, but keeps very busy with her 3 grandchildren. Her granddaughter, Luna, has started her 7th year on the Academy Company Dance Team. Miss Deb looks forward to watching Luna on stage, as she competes with her Academy Company Dance Team "Family". When not busy with her family, Miss Deb is passionate about gardening and tending after her many houseplants. She enjoys antique shopping and staying busy with home improvement projects.
---
Daughter | Mother | Grandma | Office Staff
"
"Dance is for everybody. I believe that the dance came from the people and that it should always be delivered back to the people."
— Alvin Ailey
LYNN STOTLAR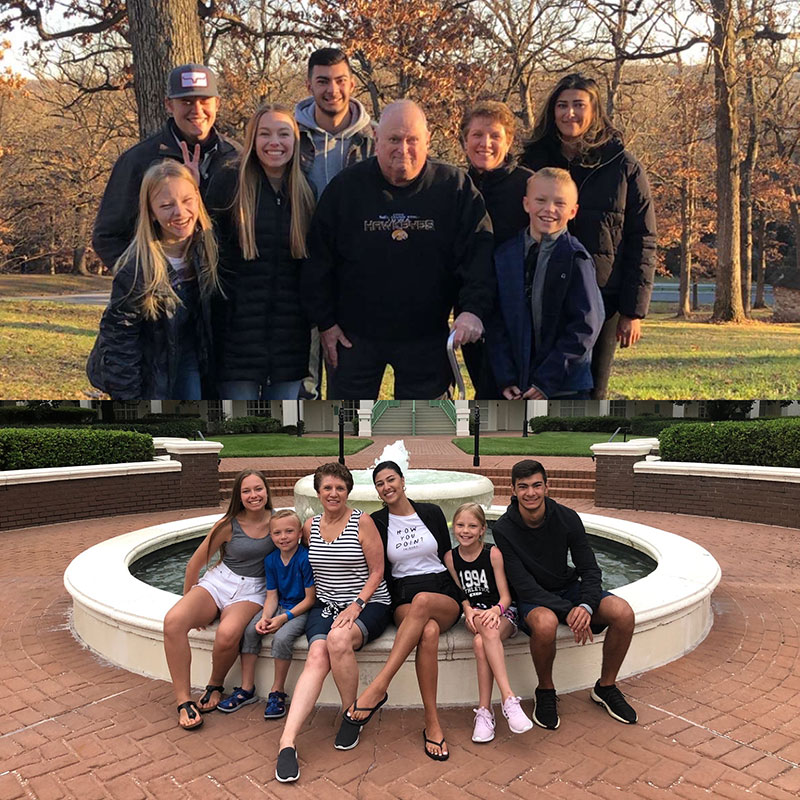 Lynn is a native of the Quad Cities. You could say she played a large role in the birth of the Academy because she is Miss Tammy's Mom. Miss Lynn spent many years fostering a love of dance with her daughter and today enjoys helping out parents and students alike when helping out in the office.
In her free time Miss Lynn enjoys visiting with her grandchildren, reading, volunteering at her church, traveling and watching the Hallmark channel (who doesn't, always a happy ending).
---
Mom | Spouse | Sister | Dance Instructor
"
"Dance is the hidden language of the soul."
— Martha Graham
BRANDY THOMPSON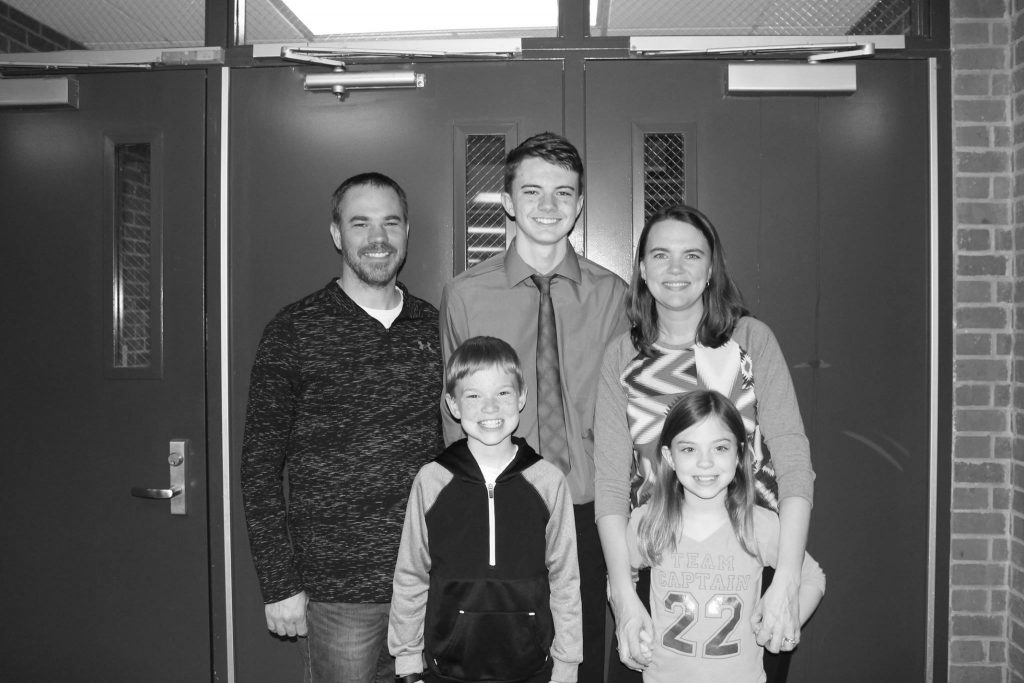 Brandy was born and raised in the Quad Cities where she trained locally, dancing in conventions, competitions and recitals. In addition to formal training, Brandy danced on her high school dance team, where she choreographed many routines in multiple genres. With over 20 years of dance experience, Brandy has a passion for showing her students a love for dance, while watching them grow and become more confident in themselves through dance. Miss Brandy's daughter, Abbey, also dances at the studio so she gets to share this experience with her daughter.
Brandy graduated from St. Ambrose University with a Bachelor's degree in Business Administration/Accounting and is currently pursuing her MBA. However, her passion for helping and teaching others has led her to currently working in the field of Human Resources.
When she isn't working or teaching, Brandy enjoys spending time with her family. Whether it be watching her sons play sports, watching her daughter dance, hiking, disc golfing or vacationing, she works to build memories with her family. In addition, Brandy is very active with her church, the local Junior Achievement and United Way organizations, as well as her school PTA, volunteering her time in our schools and community.
---
Spouse | Daughter | Sister | Academy Dancer | Dance Instructor
"
"Why Walk when you can Dance?"
— Ellen Van Dam
KACI (CHRISTENSEN) DAVIS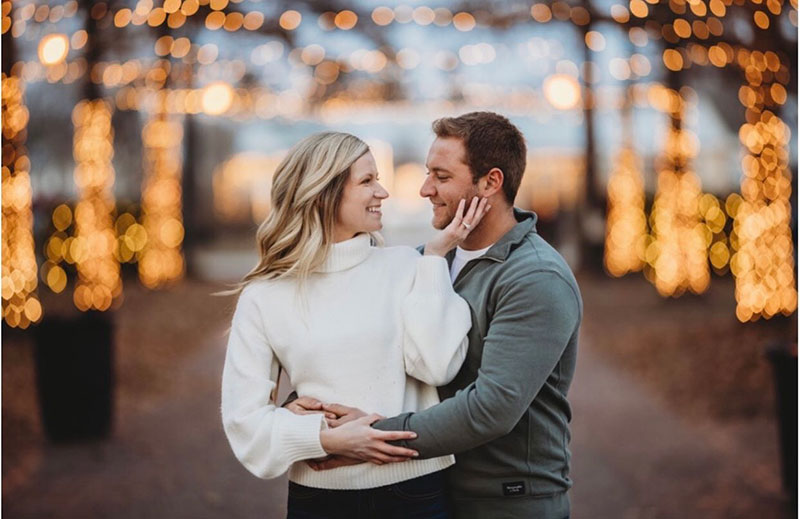 Kaci was born in the Quad Cities and spent all her free time at the Academy dance studio! She loved learning dance and her love for it continued throughout high school and college. She had the privilege to dance on the ISU's Dance Team and was captain for two years. Kaci has over 21 years of dance experience and loves working at the Academy to share her knowledge with the dancers. Fun fact, she has also been with the Academy for 21 years now!
Kaci graduated from Illinois State University with a degree in Marketing, but enjoys working with kids even more!
When Kaci isn't creating new choreography or working she enjoys new adventures with her husband Lance, traveling, spending time with her family and friends, loves trying to make new recipes off Pinterest, and playing with her puppy Gracie.
---
Daughter | Sister | Academy Dancer | Dance Instructor
"
"Don't Dance for the Audience, Dance for yourself."
— Bob Fosse
SYDNEY SINGH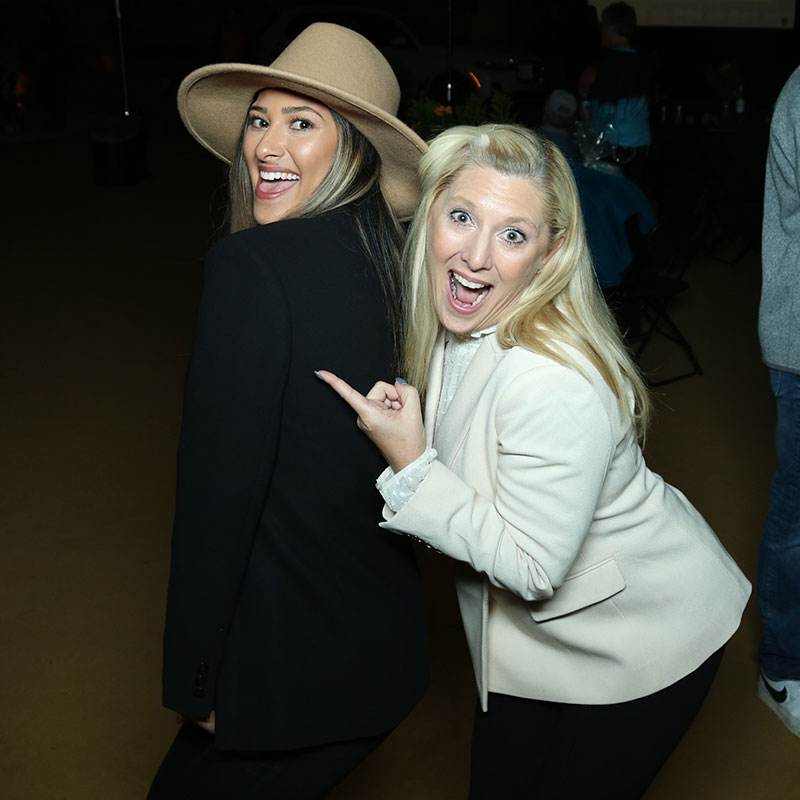 Sydney was born and raised in the Quad Cities where she began dancing at The Academy for the Performing Arts at the age of 1 1/2. She has entered in many competitions, attended countless dance conventions and performed at Disney World with the Academy five times. Sydney is the daughter of Miss Tammy and enjoys following her Mom's passion for dance. With the help of her many years of dance experience, Sydney enjoys instructing students and encouraging them with new choreography. Sydney loves getting students to step out of their comfort zone and create original pieces.
Sydney currently lives in Des Moines. She graduated with a Bachelor's degree in Enterprise Leadership with a minor in Economics. She works for Stryker (Orthopedic Supplies Rep). She is loving this new opportunity, getting to work in the OR and meeting new medical professionals.
In her free time, Sydney loves to be surrounded by her family and friends where she continues to make long-lasting memories. Whether it be traveling halfway across the world or just simply having a movie night at home. She has taken up cooking at home and working out.
---
Daughter | Sister | College Student | Augustana Dancer | Dance Instructor
"
"Any Kind of Dancing is Better Than No Dancing at All"
— Lynda Barr
REAGAN McDONALD
Reagan was born and raised in Plainfield, Illinois. She started dancing when she was 2 years old and has continued doing it through her adult years. She loved being a part of a competition dance team as well as her high school dance team all throughout her teen years. She continues to dance in college and is a part of Augustana Dance Company and Augustana Vikettes Pom Squad. Reagan is currently majoring in art and psychology at Augustana.
When Reagan has free time she enjoys spending time with her niece and nephews and hanging out with her roommates.
---
Wife | Mom | Sister | Teacher | Dance Instructor
"
"Dance is music made visible"
— George Balanchine
SARAH THIEME
Miss Sarah was born and raised in Moline, Illinois. She started dancing at the age of 2! She was a cheerleader for all of middle school and high school and a Moline Contemporaire for her junior and senior years! She graduated from North Central University in Minneapolis, Minnesota. In 2021, she got her Masters degree in Special Education and is currently a Special Education Cross Categorical teacher at Hamilton Elementary school in Moline. Her love for teaching children and her passion for dance come together at the Academy.
Miss Sarah and her husband live in Moline and are raising four awesome children; Noah, Micah, Makennah and Joyce. Makennah has been on the Academy Company team for 6 years now and also started dancing at The Academy when she was 2! Her daughter Joyce joined the Academy Company team this year as well. When she isn't teaching, she stays very busy with many activities. Her favorites are leading worship at her church, watching football (especially her boys high school teams), watching her daughters dance, volunteering and helping PTA at the schools, and spending time with family.
---
Daughter | Sister | Dancer | Academy Instructor
"
"Nobody cares if you can't dance well. Just get up and dance. Great dancers are great because of their passion"
— Martha Graham
ELLIE RECKAMP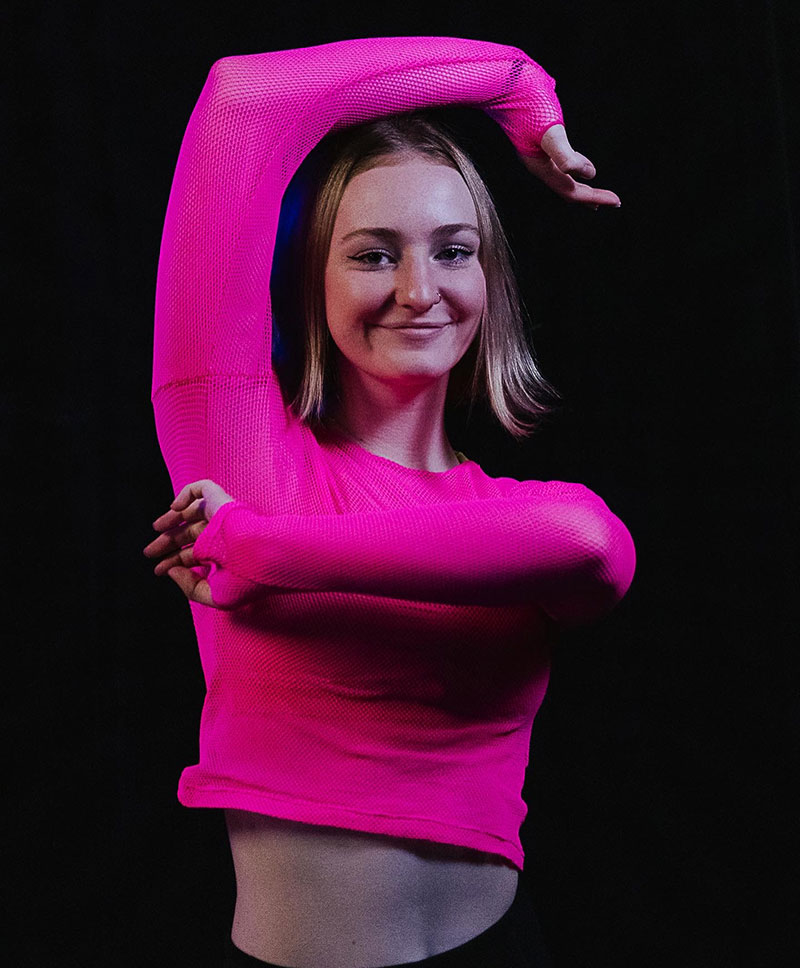 Ellie's dance career started at the age of 3 in the suburbs of Chicago, where she spent years studying a variety of dance styles from ballet and tap to modern, musical theatre, and flamenco. She has attended a number of dance competitions and conventions from the age of 12, and earned a Starbound National Title in 2016. Ellie attended the esteemed Chicago National Association of Dance Masters (CNADM) convention for many years, eventually earning a scholarship in 2018 for the Ballet Forum program. At CNADM, she was able to study under acclaimed instructors such as Nick Pupillo, Kate Jablonski, and more. She has attended many intensives at Visceral Dance in Chicago, also under Nick Pupillo. In the summer of 2022, Ellie served as the assistant director of the dance program at Kents Hill Sports Camp, and she is currently the Vice President of Augustana College's Dance Company.
She is majoring in French Education at Augustana and aspires to be a teacher and dance coach when she graduates. She can't imagine her life without dance and strives to share that same passion with her students.
---
Daughter | Sister | Student I Academy Dancer | Cheerleader | Instructor
"
"It's kind of fun to do the Impossible."
— Walt Disney
MEGAN MUMMA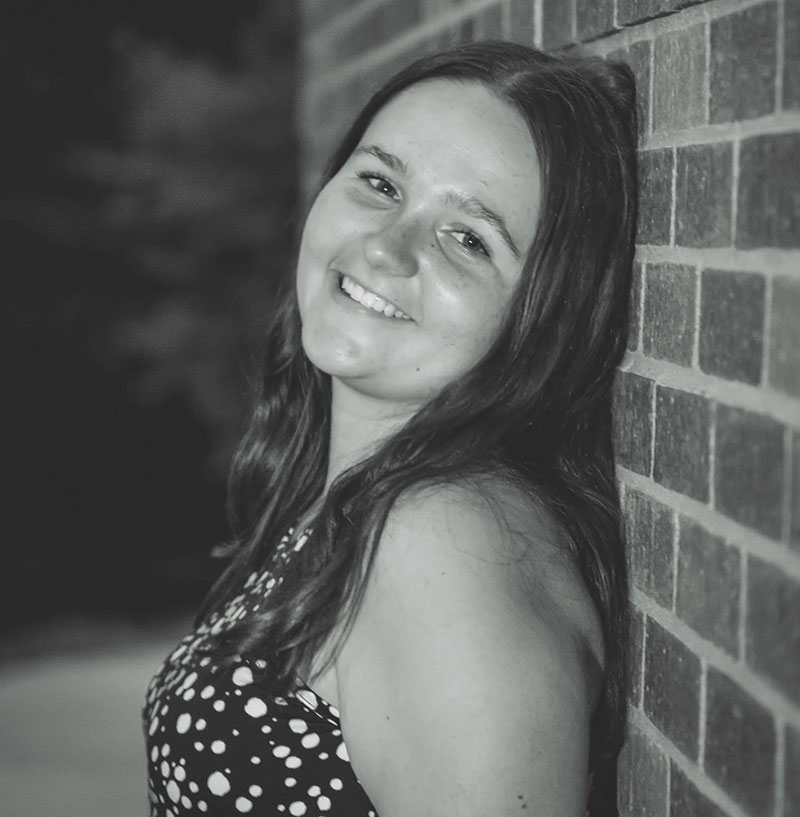 Megan was born in Silvis, Illinois and has danced at the Academy under Miss Tammy's instruction for fifteen years. She is trained in ballet, tap, hip-hop, jazz, and contemporary. While at the Academy Megan has taken recreational classes, been a member of the competition team for eight years, attended dance conventions, performed at Disney World three times, assisted a number of instructors, and taught her own classes. She is the current captain of her high school's cheer team and choreographs their routines. Megan is currently in the process of getting a degree in Computer Science at a four year university.
Megan loves all things Disney. In her free time she likes to spend time with her sister Grace and her pet bunny Pickles. Megan enjoys drawing, organizing, and listening to music.
---
Mom | Spouse | Friend | Dance Instructor
BRITTNEY MENSEN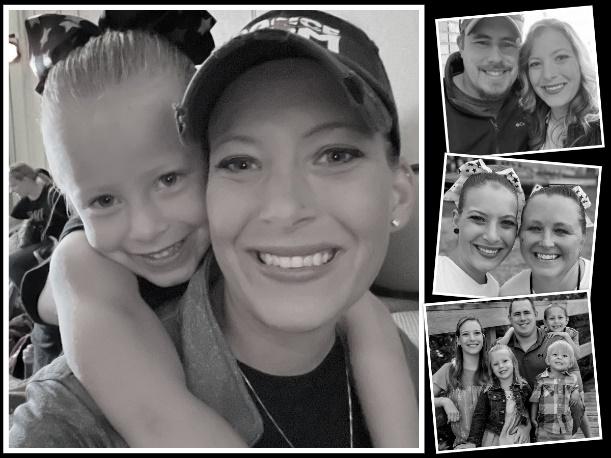 Raised in Mediapolis, IA, Miss Brittney has spent the last 10 years of her life here in the Quad Cities. She and her husband Travis, relocated after receiving her Degree in Early childhood development. Miss Brittney joined our team during the summer of 2022, teaching our Creative Movement classes and assisting throughout the studio wherever help is needed. When she is not dancing with littles in the studio, she is a special education paraprofessional for k-3rd grade students. She also has 3 young kiddos of her own at home and stays very busy with their activities, Kasin who is 6 loves to wrestle for Rock Island and play baseball, Harper who is 5, is enjoying her second season on the Academy Dance Company and Ian who is 3 loves Creative Movement and cheering on his big siblings. She looks forward to watching her daughter Harper and the other Company Dancers compete on stage at competitions. She is excited to watch all of the dancers, have fun, learn dance technique and grow through dance and music. She strives to create a fun and encouraging learning environment for all those around her. In her spare time she is supporting her kids in their sporting activities, crafting and spending time with friends and family whether it be going shopping or just playing cards. She also loves being outside during the warm summer months and playing with her 2 dogs Tommy and LadyBug.
---
Daughter | Mom | Spouse | Nurse | Dance Instructor
"
"Everything in the universe has rhythm. Everything dances."
— Maya Angelou
ALI BELL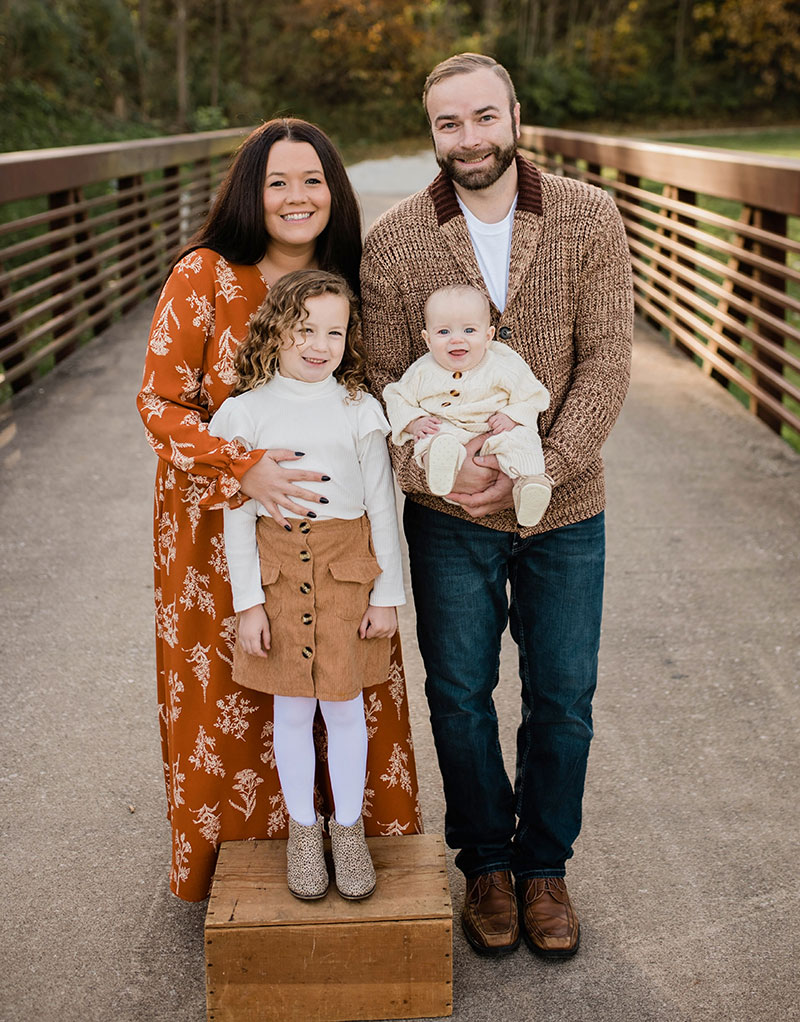 Miss Ali was born and raised in the Quad Cities. Ali started dancing when she was 3 years old and was always looking for an opportunity to perform. Ali was active in dance, tumbling, cheerleading and colorguard during her time in school. In 2006, she moved to Champaign, Illinois where she attended the University of Illinois. During her time at the University of Illinois, she was a member of the Marching Illini Flag Corp and started coaching gymnastics part time. After graduation, she became the Director of Gymnastics at a local YMCA in Champaign. While working as Gymnastics Director, Miss Ali started nursing school, graduating in 2014.
In 2017, Ali and her family moved back to the Quad Cities. In 2021, she completed her Masters degree in Health Administration. Ali is currently the Clinical Manager at UnityPoint at Home in Moline. Miss Ali joined the Academy team in 2022 and loves having a chance to work with children to help develop them as dancers and as people.
Miss Ali and her husband live in Moline where they stay busy with their two littles: Ada and Bruin. Ada has been dancing at the Academy since she was two years old and is a member of the Academy company team. In her free time, Miss Ali enjoys making memories with her family and friends, and working on home improvement projects.
---
DAUGHTER | SISTER | DOG MOM | AUNT | DANCE INSTRUCTOR
"
"When you dance, you enjoy the luxury of being you"
— Paulo Coelho
LISA BENTLEY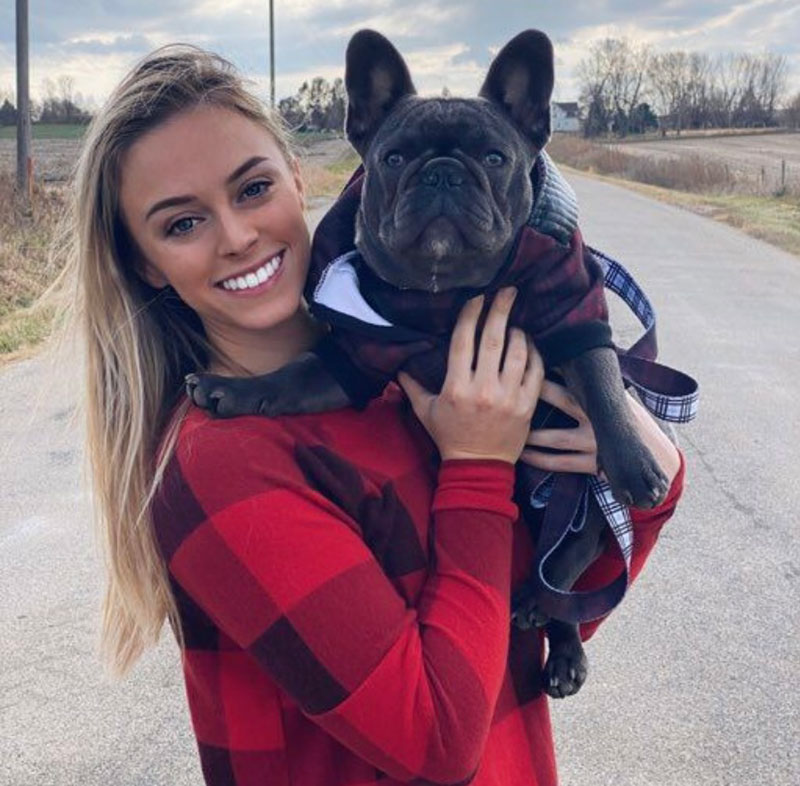 Lisa was born in the Quad Cities, She began dancing recreationally at the age of 3 and began dancing competitively at the age of 12. She is technically trained in Ballet, Jazz, Tap, Contemporary, Hip-Hop, Heels, and Musical Theatre. Post high school, Lisa moved to Chicago, IL to pursue professional dancing. Training under Rachelle Oschner from 2015-2017. She continued training with Visceral Dance, Hubbard Street Dance, Millennium Dance Complex, The Lab, and Giordano Dance Companies. Lisa trained and competed with Hubbard Streets hip hop crew- The Puzzle Pieces and Vicerals hip hop crew- InsideOut. Her dance career took her to L.A. for an intensive at Millennium Dance Complex. When she was not training, she auditioned for companies such as Disney, Carnival Cruise line and Lollapalooza Chicago. She also assisted dance choreographers at local dance conventions such as Jump, Monsters of Hip Hop, and Tremaine. Lisa has over 22 years of dance experience and loves working at the Academy to share her knowledge with the dancers.
Lisa moved back to Iowa during 2020 to pursue a new career in I.T. She obtained her degree in Cyber Security and Information Assurances.
When Lisa isn't teaching or creating new choreography, she enjoys traveling to warm destinations, spoiling her French Bulldog, spending time with her family and friends, working out, and being active in her church.